handmade from victorian era wax seal stamps
Wear Art History
Learn More
Wear Your Story
Gift yourself and your loved ones necklaces full of meaningful messages and historic imagery. Wear them close to your heart and let them serve as your everyday reminder of what matters most.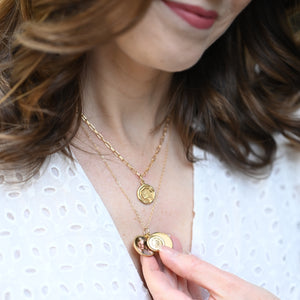 Wear Art History
Each piece in our wax seal collection is handcrafted in the USA and cast in sterling silver or 14K gold from rare authentic, antique Victorian-era wax seal stamps dating back to the 1800s. When you wear our wax seal jewelry, you're not only wearing your story...you're wearing a piece of art history.
SHOP ALL
Photo & meaning CARD
Each design comes in your choice of either a pendant necklace or locket necklace. Your jewelry is handcrafted with love in Texas and beautifully wrapped in recycled packaging including a meaning card explaining its message and symbolism along with a personalized gift note upon request.
Marian Grace lockets arrive to you ready to wear with your photo professionally printed, cut and already inserted. Upload your photo from your phone or computer in seconds to create heirloom jewelry you will treasure forever.

No photo? No problem. You or the gift recipient can order the photo later at no extra cost.
Shop By Meaning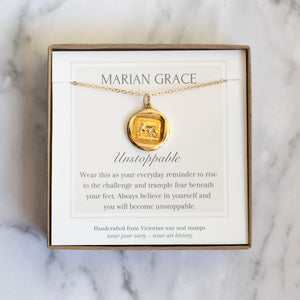 Shop Lockets & Pendant Necklaces
---
GIVING BACK
At Marian Grace, giving back is our mission.
Wearing your story can help to make someone else's dreams come true. A portion of every purchase will be donated to the nonprofit, Gift of Adoption, to help families fund their adoptions. As we know from personal experience, adoption is an expensive process and it's our goal to help families be able to grow in this very beautiful way.
Shop All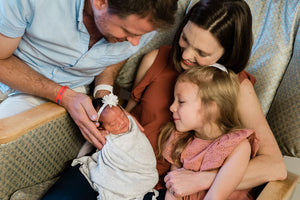 Kind Words
"Thank you for creating something so meaningful that we can all share with our loved ones. This is such a great concept and is so very well thought out. Your products are truly amazing!"
-Trisha